I had never buddy-read a book before, I had just never had the opportunity. But me and Caitlyn got chatting and we both really wanted to read An Ember in the Ashes by Sabaa Tahir so why not!!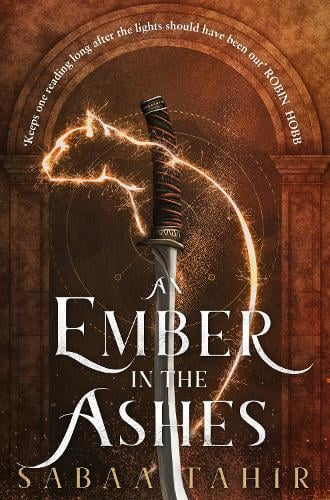 A YA fantasy, we follow from two different perspectives throughout this story. One is from the subjugated race, a Scholar, the other is from the Martials. The race which overthrew them and maintains control. As you can guess, we get a good rounded viewpoint of the story!
There were so many times me and Caitlyn were messaging each other in CAPS LOCK BECAUSE WHAT THE ACTUAL F*** IS HAPPENING!?!?! So that should tell you some of how amazing this book is! It completely draws you in and Sabaa Tahir has managed to write the characters so beautifully that they really come alive on the page and you're changing your allegiance and routing for different sides and different scenarios!
This is an amazingly written fantasy and I also think that the book is the perfect length. You finish just at the perfect point, and I am really looking forward to when I pick up A Torch Against the Night. I can't wait to see where the story goes from here! If you're at all interested in fantasy reads and/or YA I really do recommend this beautiful book. I'm so glad I've finally read work by Sabaa Tahir and I look forward to delving in again in the future!